Home Literacy Environment
Figure 1.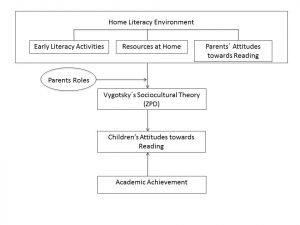 How teachers can support parents?
Collaborate with parents.
Give concrete examples to the parents. (link to – tips!)
Introduce parents to local possibilities to access books.
Introduce to the parents your reading aims and the way you teach reading.
If the child has problems in learning to read, teachers need to emphasize the use of classroom language also at home.
As some parents may be illiterate, this would be an opportunity for them to also learn basic literacy skills.
What the parents can do?
5 steps
Read to the child.
Read with the child.
Listen when the child is reading aloud.
Discuss about the book or text that has been read.
Go to the public library with the child or encourage the child to read in school library.
– NOTE from eBooks – a link to materials e.g. www.africanstorybook.org